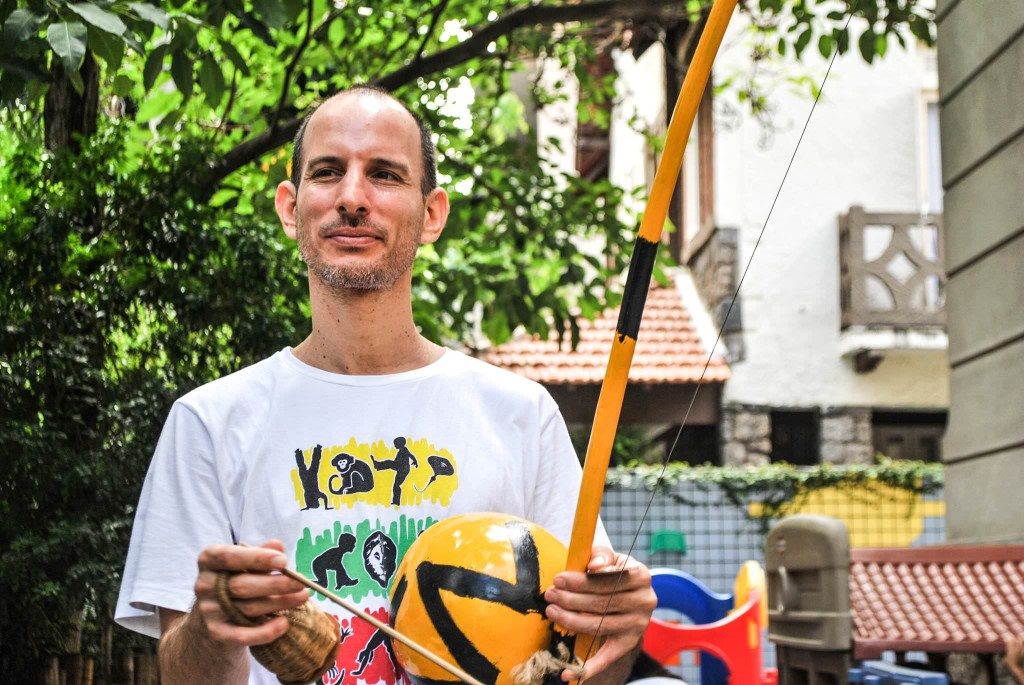 Omri Ferradura is one of Brazil's most prominent masters of this generation that is changing Capoeira in Brazil. He developed an educational method based on Capoeira's history as an oral tradition and structured it with a solid pedagogical knowledge, creating the 'Brincadeira de Angola' method.
Omri Ferradura was raised in the heart of Rio de Janeiro, where, from a very young age, he was exposed to the rhythms and and culture that are the pulse of this city. He was introduced to capoeira as a teenager, and became a renowned master. His research in music and movement led him to take part in a number of works with Brazilian dance and theater companies. In 2006 he completed a BA in Education, uniting the knowledge of popular culture with academic research. Since then, he has had a successful career as both teacher and performer; he has implemented his work in many schools around Rio with children and adults alike.
Over the years, Mestre Ferradura has led dozens of workshops in Brazil and around the world, preparing teachers for the challenges of working on a holistic approach to education—one that encompasses music, creative body movement, social interactions and cultural elements. With the aim of sharing this knowledge, he set up an open-source site, www.brincadeiradeangola.com.br, which explains in detail how Capoeira teachers all over the world can apply the method. His goal is to build an egalitarian teaching-learning process in which students can build their own knowledge in a cooperative, creative movement-based environment.
His academic articles:A capoeira como prática educativa transformadora", "A Capoeira como prática pedagógica na Educação Infantil" and "Capoeira e educação libertaria para a formação de sujeitos autônomoswere selected to represent Capoeira on RIo de Janeiro's Secretary of Education website.
Mestre Ferradura has produced several Capoeira CDs and is also one of the producers of Movimento Novo da Capoeira, an event that radically changed the Capoeira scene in Brazil and worldwide.
In the artistic field, he carries capoeira directorial work in various fields, with names such as Ariane Mnoucchkine (Director of the Soleil-Paris Theater), Karim Anouz (Director of Madame Satã), Claudio Balthar (Director of Intrepida Trupe), Paola Barreto Leblanc (Director of the film Maré Capoeira) and João Falcão (Director of Chico Buarque's "Opera of the Trickster").
In recent years, Mestre Ferradura has been dedicated to training new professionals and traveling to teach courses in various countries. In Rio de Janeiro, he maintains a regular capoeira job for adults and children in his own space, and teaches periodically at universities, such as the Federal University of the State of RJ (UNIRIO), the Fluminense Federal University (UFF) and the Federal Rural University of Rio de Janeiro. Roraima (UFRR).
A more complete portfolio with several release files can be accessed here:https://goo.gl/Q7LVYn and some of the TV shows here: https://goo.gl/4oeeQi